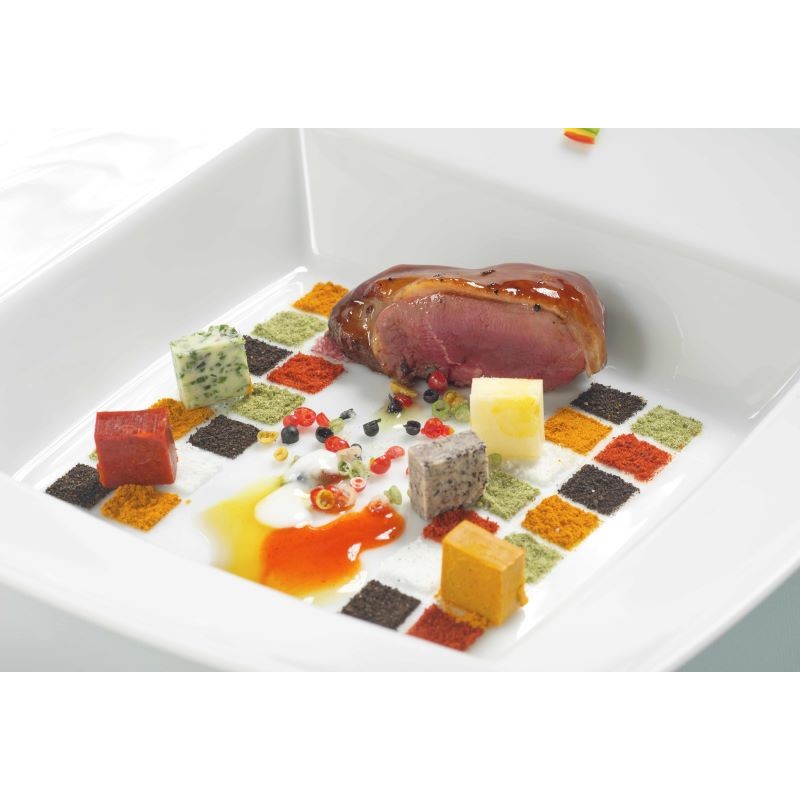  
MENÚ DEGUSTACIÓN L'ESGUARD
Descubre la neuro-gastronomía de la mano del chef Miguel Sánchez Romera con éste menú degustación para 2 personas
The tasting menu for the l'Esguard Alàbriga restaurant is as follows:
To accompany the traditional Esguard bread, a blend of extra virgin olive oils; arbequina, cornicabra and picual with natural fruit purées and rose, jasmine and violet water
Sea bisque with seaweed, gazpacho mousse, avocado velouté and coastal prawn grillée.
Oyster tartare, a classic of ours, with leek puree, basil and fine Madagascan vanilla onion cream
Loin of wild salmon poelée marinated in beetroot, orange, bay leaf and clove broth. Bed of razor clams, creamy smoked creamy smoked cheese with beech shavings, kombu seaweed sauce and beetroot.
Coquelet de Bresse in "torchon" in soya broth, mashed potatoes and
aubergines smoked with oak and holm oak and sweet and sour spicy sauce.
DESSERTS
Coconut muslin, ginger, lime, lemon, Baileys and Pedro Ximénes micropraline.
Topped with a laminated ice cream of white and dark chocolate, red fruits and five spices.
TO CONSIDER
The menu does not include drinks
The menu will be served at the Gastronomic Terrace l'Esguard, located in the Sea Club, from July 1 to September 17
It is essential to reserve the date, sending an email to esguard@hotelalabriga.com specifying the voucher number
Restaurant opening hours: Thursday, Friday and Saturday from 8:30 p.m. to 10:00 p.m. - last reservation at 9:30 p.m.
The reservation includes a parking space at the Alàbriga hotel